Posted by Valerie Tyler on
If you've come looking for the perfect formula to style your shelves and bookcases, I've got a surprise for you! I'm not going to give you one. What I am going to do though is encourage you to get creative, think outside of the box and decorate in a way that best represents your taste and style. 
The only rule I have is that you should always put things on your shelves that represent you and make you happy whether that is sculpture, art objects, plants, books or functional storage.
If you are struggling for inspiration though, here's a few ideas that can serve as suggestions and ides of how to start (versus hardcore styling rules)
If originally stumped how to begin, take a look at your favorite objects and see if you can find a color scheme or pattern.  In the case of these shelves, I had a lot of brass I wanted to display.  Paired with neutral black and white, I added green accents for a pop of color.
Vintage Brass Art Deco Bird, Valerie Tyler Collection
Can you find the speaker hidden on these shelves? Instead of mounting the speaker to the wall where it would really stand out, this speaker was hidden behind objects and also placed where it would blend into the color of the shelf so it wouldn't stick out too much.
You may have heard of rules like grouping objects by odd numbers,but you don't always have to do that! If you look at some of these shelves you will notice they sometimes have an even number of objects.  Varying the heights or materials is what gives the sense of contrast instead. 
Another example of differing heights are used to good effect.  Note the mirror on the wall also becomes part of the shelf display.
Never underestimate the power of unique shelving itself.  This eclectic collection when combined with the wicker rack has a unique bohemian style.
Decorative Metallic Mountain, Valerie Tyler Collection
There's an ongoing debate whether it's ok to turn your books bindings inside your shelves to get a more uniform look or whether you should have all the jackets facing outwards.  We're not picking sides!   Even though we're total book lovers around here, if you like the clean look of white pages facing outwards by all means do whatever you like!  Here's the same shelves with the books styled two different ways.
Books can also be grouped by color and also laid sideways and integrated into a color scheme.  In this case I've gone with a combination of black, white gold and greenery .
The perfect shelf situation isn't always a bookcase.  Floating shelves can dress up an otherwise plain wall  by adding extra dimension and visual interest.
Once in awhile think simple too!  A solitary bench turned into a plant shelf and placed below artwork makes a stunning visual. 
The following was styled by Lea, the interior stylist behind Creekwoodhill
Note the use of positive and negative space. While there are lots of interesting things to catch the eye, objects are grouped so as to not be cluttered in order for every element to shine!  There's a little bit of everything including, art, sculpture, books and plants. The shelves show tons of character and personality.
Photo Credit: Lea, Creekwoodhill
Shelves aren't just confined to library and office spaces though!  This is a lovely example of how beautifully you can style shelves elsewhere in the home such as a kitchen or laundry room.  Functional goods look like art when displayed both flat and stood vertical as if artwork.  The addition of plants keeps things looking soft and natural instead of stark and clinical.
Photo Credit: Fallon Burch of East and Poppy
Above all else, be true to yourself.  I'm a fan of eclectic global art, so you can find things like Egyptian sculptures, animal figurines, and geodes in our home.
More inspiration:
Happy shelf styling!  Hope you have fun displaying your treasures.
Posted by Valerie Tyler on
Living by a national park in a house surrounded by giant spruce trees I take my cues from the outdoors usually when planning out holiday decor.  You'll find plenty of evergreen and natural elements like pinecones or berries.  Our most popular visitors, the deer make an appearance too (both indoors and out).  I continue the warm, cozy theme by including plenty of traditional tartan and buffalo plaids!
Target did it again this year by having plenty of very affordable plaid ornaments.  I pretty much had to pick out at least one of each and barely spent $20!
While it's nice to keep things rustic and refined, with a toddler in the house we've got to have some fun favorites like these musical light up Charlie Brown figurines from Hallmark!
Vintage plaid blankets and metallic accents (from my own
Valerie Tyler Collection
) are combined with newer goods from Hobby Lobby and Homegoods!
Even the bathroom gets a bit dressed up for the holidays since of course we will have plenty of visitors!
The outdoors gets dressed up as well with greenery, plenty of lights and a vintage sled.
Posted by Valerie Tyler on
**This post contains affiliate links and I will be compensated if you make a purchase after clicking through my links.
Joanna Gaines and Fixer Upper have certainly brought farmhouse style back to the forefront of home design.  The look however now is a million miles away from the kitschy country of the 1980's and instead brighter, lighter and a little more natural. It can blend quite seamlessly with other types of decor when you stick to a neutral palette and natural materials.
If it's chippy, rusty, vintage or earthy it probably can fit into farmhouse decor.  There's no need to actually live on a farm to create a home with the look.  In fact, you don't even need to live in the country.  I've seen plenty of suburban and city abodes that have bits and pieces from this trend that look stunning.  To lend your home this style consider adding rustic wood furniture, galvanized steel, natural greenery, and subtle farm motif decor. I've rounded up a few inspiring pictures from a few of my favorite gals on Instagram to help you envision how lovely this style can look.
Rustic wood, check. Vintage style lighting, check.  Country style cooking utensils, check.  I bet you'd never guess this is a SoCal home! This beautifully fresh kitchen was share by Carol Estes @cestesdesign I feel this one has a little bit of french country style too.
Photo Credit: Carol Estes, Interior Designer
It's the combination of natural elements like that boxwood wreath and birch branch from this photograph by Chelsea (@creatingcottersbay) that initially caught my eye.  That cow picture though totally brings the farmhouse style, but the fact that is in black and white keeps it classier.
Photo Credit: Chelsea / @creatingcottersbay
http://www.creatingcottersbay.weebly.com
My dear friend Sherri actually hails from Florida, so more often than not her style tends be beachy and fresh but this vignette she designed shows just how easily you can sneak a little farmhouse into other styles.  The barn house pictures and rustic wood give a subtle nod to country farm style.
Photo Credit: Sherri Ogg @graceindesign
Can you believe that the clock in the next Instagram pic was handmade? Talk about stunning.  While this vignette is more modern in style, I simply had to show you that amazing, rustic piece of art!
Photo Credit: Lisa Marie @homesweetcozyhome
This photograph from Sarah (The Freckled Farmhouse) showcases a farmhouse style kitchen that is so beautifully neutral and minimalist. The edison style lighting really gives the space a classic, vintage look.
Photo Credit: Sarah @thefreckledfarmhouse
https://thefreckledfarmhouse.wordpress.com/
Need some ideas of how to get this look.  Check out a few of my affiliate links for some similar farmhouse style decor items.
Shop the look:
White Dipped Baskets
Cotswold Console
Evelyn Wall Clock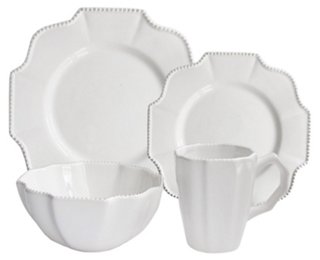 16-Pc Scallop Set, White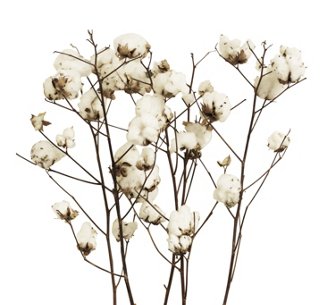 S/5 Cotton Stalks, Dried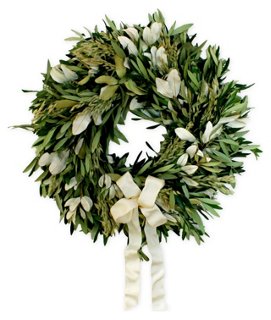 18" Olive & Integrifolia Wreath, Dried
Office Star Somerset Metal Dining Chair
Four Medium White Birch Poles 8 ft
The owner of this website, Valerie Tyler, is a participant in the Amazon Services LLC Associates Program, an affiliate advertising program designed to provide a means for sites to earn advertising fees by advertising and linking to Amazon properties including, but not limited to, amazon.com, endless.com, myhabit.com, smallparts.com, or amazonwireless.com.
Posted by Valerie Tyler on
We converted what should have been the dining room in our house into a library and I absolutely couldn't be more pleased.  While we have an overwhelming amount of books I wanted the library to serve as a bit of an eclectic art gallery too, so there are very few design "rules" we followed other than to simply include things we liked.  Objects include Asian vases, African teak sculptures, Greek Bronze, Natural items.  Knick Knacks can get lost of look cluttered, but when combined and placed along the bookshelves they're much more interesting.